Who's ready to win $200!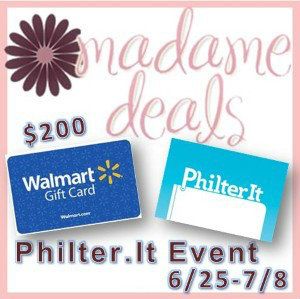 This is a hot prize that you can win just by reading on!
Our sponsor, PhilterIt, is offering one of our readers a $200 Walmart Gift Card!!
PhilterIt.com is changing the way you use email! Tired of your inbox getting all clogged up with all those daily deals you signed up for? PhilterIt filters messages into icons, so you can find them but they aren't in the way.
Take a look at how you can organize your inbox:
I can't wait to get to use my free account. My email is always full because of all the deal posts I have. Now I can organize them instead of deleting htem!
You can sign up for you own PhilterIt account by going to http://PhilterIt.com and using the the code:  CRUNCHY
*In order to WIN the giveaway, you must register with PhilterIt with the code above.
You can find PhilterIt on Facebook and Twitter as well.
Sign up with PhilterIt and then enter to WIN the $200 Walmart Gift Card below: