Finding companies that genuinely strive to make a change in the world is getting harder and harder. We live in the times where mass production is king and quality craftsmanship is scarce. That's why I get so excited when I find companies like Novica!
Novica is an amazing company, in association with National Geographic, that not only prides itself on providing unique high quality items, but in trying to change the world! As soon as I found Novica, I felt like I had been transported to a Morroccan market place! I could almost smell the warm spices in the proverbial air!
Novica specializes in providing unique, hand crafted clothes, home decor, and jewelry that is made by artisans from all around the world. Each piece of jewelry, stitch of clothing, and inch of hand carved wood has it's own story to tell. You get to read about the story in the artisan cards that are included with each purchase!
After looking around their store, I absolutely fell in love with a pair of drop
garnet earrings
 . I don't wear jewelry too often because I have very picky taste. I want jewelry that is as unique an individual as I am. I think that jewelry is a powerful source of self expression, and each piece should tell a story! These earrings are warm, and inviting. They can  be used to enjoy the warm energy that the garnet provides, or worn on a night out on the town. They are just as versatile as I am!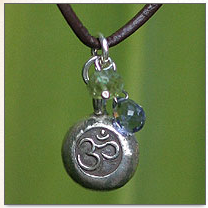 I also fell in love with an Om peridot necklace. It has the peaceful symbol of Om made out of silver with the calming shades of peridot and kyanite. It is on a beautiful leather chain, that compliments the warm that the Om symbol exudes in meditaton.
I really have to say that I am amazed with Novica! Not only do they provide amazing, quality products, but they also provide 0% interest loans to the craftsmen across the world to make these beautiful items. They call the program Microcredit. You can donate money to help these artisans continue to make these oustanding pieces, and make a change in their lives! If you spend your repayment at Novica, you earn a 15% coupon towards that purchase! That is almost like making 15% interest!
Coming soon, Novica is going to offer Passport Sales. These are sales that offer HOT deals on all sorts of Novica items, you can submit your email to be the first to know when these awesome sales starts. To check out a little bit more about the upcoming Passport Sales check out this great video!
Here's the most exciting part. Novica has teamed up with ShopAtHome.com to give you 7.5% cash back on all your purchases made through your ShopAtHome.com account!
ShopAtHome.com is an amazing site where you can get cash back on your everyday purchases! You can score some amazing deals with the hundreds of coupons including free shipping, percentage off codes, and even codes for free items. The best part is you can sign up for ShopAtHome.com for FREE!
With an amazing partnership like Novica and ShopAtHome.com, you can't go wrong!