I love applesauce, and my kids love the chunky variety so I figured I would give it a whirl. It's super simple to make, healthier, and in the long run is more frugal than buying even the generic brand at the store! Applesauce makes a great snack, a slightly sweet breakfast food, or even a healthy dessert! It can be a dieter's best friend, too, especially if you add a dash of Sensa before eating.

Before you get started it is always a good idea to read up so you are doing it properly. Here is a great book about all the proper times to heat and preparations for canning. I grabbed this book, just for this post for free on Amazon thanks to Swagbucks!

First off, the amount this applesauce recipe yields will vary based on apple size, so if you have more just it eat warm YUMMY!
Ingredients
1/2 Bushel of your favorite apple we use 1/2 Jonathan and Cortland Apples (Check
Pick Your Own
to find out which apples are best for saucing)
Water or apple juice depending on your tastes
Tools:
Water Bath Canning Pot
Jar Grabbers
Canning Jars and Lids
Apple Peeler and corer
Large Stock pot
Potato Smasher
Cinnamon (optional)
FunnelMake sure to steralize your lids and jars before you start cooking. You can sterilize your jars by placing them in your dishwasher. Put lids and rings in a sauce pot and boil for 20 minutes covered.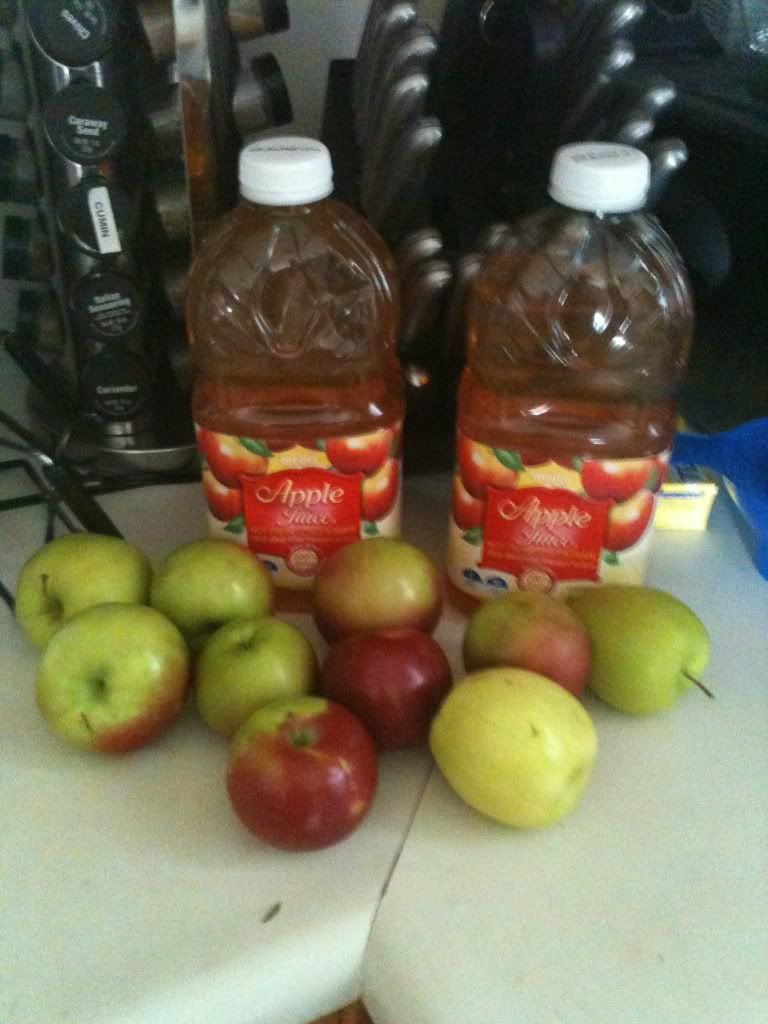 1. Gather your apples. Make sure you wash them!
2. Peel and core your washed apples and place in large stock pot
3. Add about 1 inch of water or apple juice in the bottom of the pot. If you add too much it's not a huge deal, you can just boil it off later
4. Cover the apples and turn up high for about 5 minutes. It is a good idea every now and then to stir the apples. Apple Juice has high sugar content and burns quickly so if you don't stir and check them it can burn to the bottom.
5. After it's been boiling for a little bit, turn it down to a medium heat. Continue to stir the apples until you notice they are soft.
6. Now here's the fun part, and make sure to get the kids involved. Grab a mashed potato smasher and start smashing. It's a lot of fun! Mash the apples up until its the consistency you want. You can make smooth or chunky this way.
7. If you want, add cinnamon to taste! I usually alternate between making regular applesauce and cinnamon applesauce!
8. After you are done having your fun, it's time to can. Put your funnel into your jar. Fill up until about 1/2 inch below the top of the jar. Tap jar on
counter to make sure you get all air bubbles out.
9. Grab your magnetic lid grabber and place the lid and ring tightly over the jar. Set aside
10. Fill all your jars.
11.After done filling, make sure to put on your water canner.
12.Fill your pot with water and place jars in the water. Place cover on the pot. If you are doing pint
size jars boil for about 20 minutes. Place enough water in the pot to cover the top of the jars.
13. After your done boiling, use your jar grabber to remove the jars and set them to cool. It is VERY important to not bump or mess with the jars. Let them set for AT Least 24 hours to settle.If you are lucky enough to have a you pick apple orchard around you, this is the BEST way to make sure you have quality apples. At my local orchard, I bought 19 lbs of apples for only $13 so less than $1/lb!I try to keep the equipment needs low, to offset the cost of the sauce. You can find jars and lids at garage sales and thrift stores. The important thing to know is you really don't want to use used jar lids. These lids have a special seal they form when used to keep the food shelf stable.  Lids are super cheap to replace and can also be found at thrift shops at times. Just make sure they aren't used.At my local store applesauce is $2 a jar. This way I can make it about .50 cents a jar, plus it's a great tradition to start with the family and it's SUPER easy!